Underground Art
Underground Art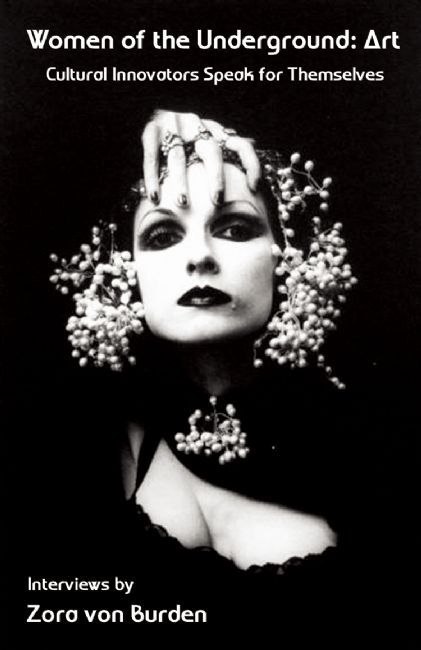 COMING SOON (Spring 2010) ZORA VON BURDEN interviews Iona Miller, "From Underground to Under Cover" in WOMEN OF THE UNDERGROUND: ART - Cultural Innovators Speak for Themselves
IONA MILLER:
"Many artists anticipated the importance of nonlinear creativity, including James Joyce, Burroughs with his cut up technique, Pollack who's paintings actually display mathematical chaos, etc. The importance is that artists anticipate both science and social shift, long before it can be articulated. Chaos is iconoclastic; it breaks up the old order and makes way for the new at the creative edge. This edgework is the essence of chaos magic, IMHO - spiritual brinksmanship."
"I have no knowledge of what is now called "chaos magic" and its principles. I only know how I perceive the juxtaposition of chaos theory, process dynamics, and magick. Chaos magic, IMHO, follows the unique trajectory, guided by an unseen Strange Attractor - your inevitable future - with its unpredictable yet inexorable gravity. Your nonlinear "Angel" reaches into the past to pull you into your future."
"So just like one toxic experience can create dysfunction, one strong healing experience can eliminate it. And it can happen using metaphor, epistemogical metaphors that emerge from within, i.e. "how you know what you know" and what it is "like". One has to let go and trust that process to let old patterns dissolve so new ones emerge creatively from the deepest level. The difference in treatment philosophy is that it is brief therapy, not endless analysis."
"The imagery that emerges in this process is spontaneously healing ~ it is not different from the healing, and it is idiosyncratic, very particularized and in no way "programmable". It cannot be "imported" into a person as in guided visualization. It emerges spontaneously from within and can be deepend further into a waking dream.This type of experiential therapy is often likened by participants to psychedelic journeys. I have written extensively on this aspect, for example in "Chaos as the Universal Solvent"."
"In ancient times, a 'Virgin' meant a woman who was complete in herself - psychologically, rather than biologically intact. She has a lived relationship with her Spirit; she carries it for herself, rather than projecting that strength outward for some man to carry for her. So ultimately, the battle of patriarchy is one of Spirit and Soul, which is what the alchemist sought to reunite with the body. If you leave body out of the equation, it is just a "head trip", and nothing will change fundamentally. "
RESONANCE ON AN OPEN STRING
WOMEN OF THE UNDERGROUND: ART

Cultural Innovators Speak for Themselves
Zora von Burden (Editor)
"It is not about provocation, reaction or even invocation, it is about transformation: mentally and physically."—Marina Abramovic, artist
"Art is subjective, and if one sees something in an image, that projection is a reflection of the spectator, who sees what he or she wants to see, whose critique is relevant to him or herself, exposing his or her own perversions."—Irina Ionesco, artist
"What I used to tell my psychotherapy clients is true of the art of kabbalah: the method works if you do. It isn't called the GREAT WORK for nothing, not the Great Dabble, or the Great Party, or the Great Persona, or whatever. It is about the serious business of examining, knowing, and changing yourself at the core level." --Iona Miller, artist
Until the late twentieth century, women's creative skills were relegated to craft and decorative arts, and valued only for utilitarian purposes in service to others and the manufacturing of products to benefit society.
After enduring the great injustice of being denied the freedom that self-expression brings through art for the joy of the human spirit, Women of the Underground: Art celebrates those female cultural innovators who are creating new artwork that pushes boundaries, dares to question, and redefines the genres of mixed media; theater; film; photography; and visual, conceptual, and performance art.
In this groundbreaking anthology that will inspire artists and everyone interested in alternatives to mainstream culture, as well as serve as a reference book for art historians, twenty-six female artists describe their ideas, beginnings, influences, and creative techniques. Contains interviews with Lady Pink, Marina Abramovic, Orlan, Aleksandra Mir, Iona Miller, Penny Arcade, Johanna Went, the Guerrilla Girls, and many others.
http://www.amazon.com/Women-Underground-Cultural-Innovators-Themselves/dp/1933149337/ref=sr_1_7?ie=UTF8&s=books&qid=1262119006&sr=1-7
Editor Zora von Burden was born and raised in San Francisco, California. A frequent contributor to The San Francisco Herald, von Burden also wrote the screenplay for Geoff Cordner's underground cult classic film, Hotel Hopscotch.